Best guitar amp simulator VST plugins paid & free 2022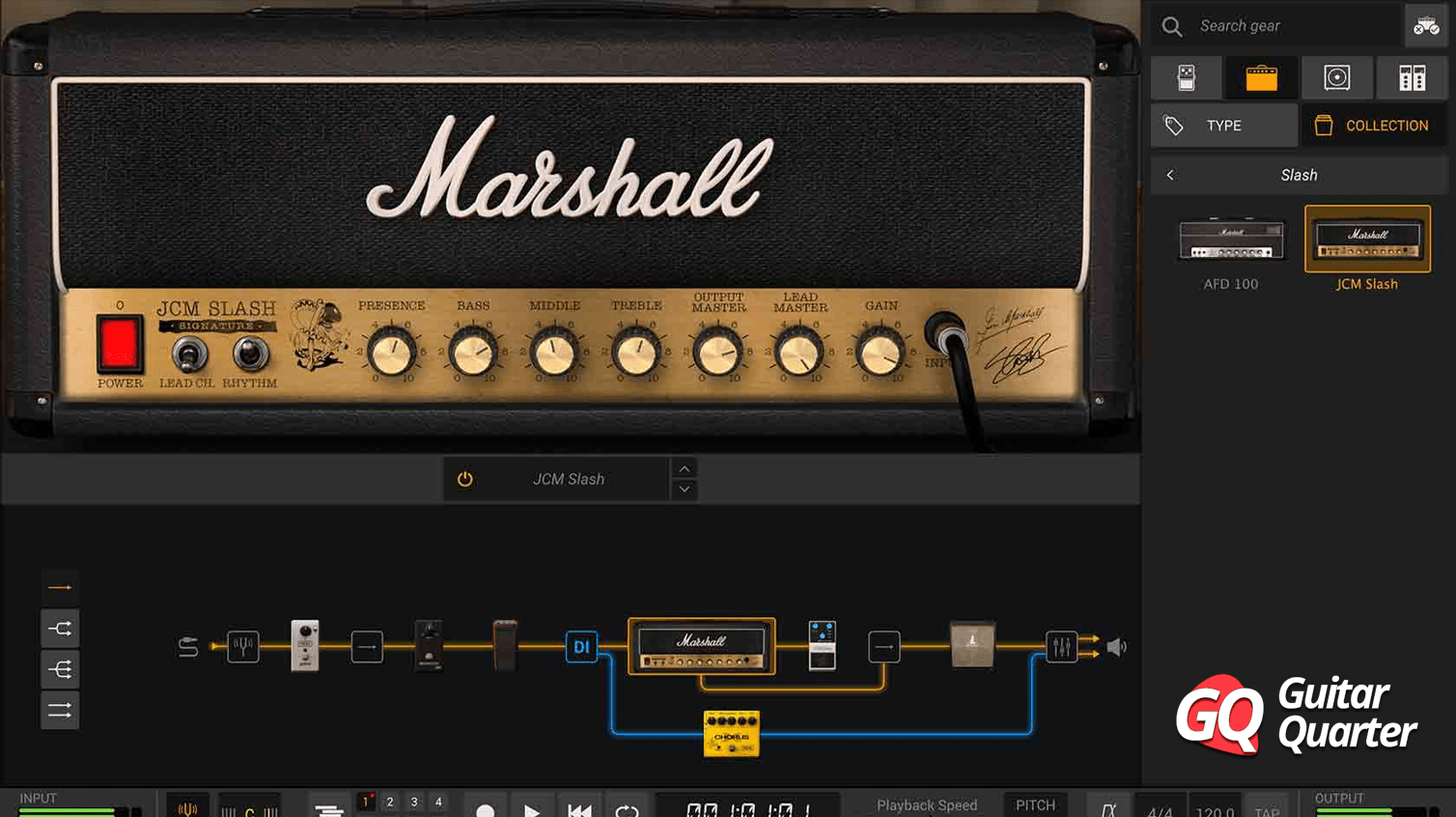 Best free and paid online guitar amp simulator VST plugins for PC and Mac in 2022, how they work, and top freeware for trial with great tone!
Virtual guitar amps
This is a very long article, so if you are new in this topic it is worth you read all, but if not, we strongly suggest to use the table of content below to go directly to the point you are interested in.
Firstly, you will find a brief introduction to guitar amp sim technology, pros and cons. Then the list of the best paid virtual guitar amp VST plugins. Afterwards, the list of the top free guitar amp sims. Finally, you will find a conclusion on guitar amplifier simulators.
Evolution of Virtual Studio Technology – VST
Undoubtedly, the technology is evolving rapidly. Indeed, nowadays it is not necessary to have a loud amplifier for a concert; thus you don't need to mike your amp either. You just need to plug your guitar into a PA system. In the same way, you don't need an amp for playing at home anymore. New VST or Virtual Studio Technology plugins allows you to convert your laptop in a great-toned classic guitar amp.
Don't miss our review on the best DAWs for your Home Studio.
What is an amp simulator or a virtual amp?
A guitar amp simulator or a virtual amp is a program that emulates guitar amplifiers and their the sound using a digital technology call VST -Virtual Studio Technology-. They are designed to just plug-in and play via an interface, allowing any guitarplayer to convert a PC or Mac in a guitar amp. Usually, guitar amp sims come as a VST plugin. Some sims are based on real-life iconic and classic vintage or modern amps, while others are original sound guitar amplifier. Thus guitarrists don't need a 'real' guitar amp anymore, just their computer and a electric guitar vst plugin.
Why should you use guitar amp simulators?
Guitar amp simulators are a great way to get different style amps -and tones- without having to invest big money and room at your home or studio. Actually, there are a lot of new bands that record their demos and also their album with these amp sims.
The versatility of guitar amp simulation sofware mean that you can get almost all the iconic clean and drive tones -whole range of audios-, a complete amplifier collection, with just a click. Most of virtual guitar amps also allow you to choose differents cabinets, and microphones in their studio. Furthermore, one your guitar passages are recorded, you can still tweak your amp parameters and equalization in real-time as you were re-amping.
There is an extend offer of virtual guitar amplifier that includes all kind of styles, from vintage Fender tone amps to Modern High-gain drive amps. The best guitar amp simulators are paid as you may expect, but luckily most of them offer a free limited version or a trial time. The goal of the companies with their freeware is that you like so much them that you buy the complete paid version.
You might also be interested in our selection of the best free online virtual drum machines.
Amp Sims: Noise and Loudness
Loudness and noise are also an important issue for bedroom players or producers. Virtual guitar amps make possible to "crank" a loud Marshall Plexi; without risking your ears and your relationship with your family or neighbours. Using an amp simulator will also save you a fortune in microphones and room acoustic treatment.
We will show you both the paid and free guitar amp VST simulator plugins.
Are guitar amp sims that good?
Yes, guitar amp simulator are really great, as we mentioned, they give you all the tones that you may desire. Virtual amps allow you to play wherever you want using you PC or Mac.
Although the virtual guitar amps don't have the dynamic and tone of a real tube amp; nowadays they are very close to real-life amplifiers. Not many ears are capable of hearing the difference between a virtual simulator and a real amp.
Rick Beato says that using digital modeling amplifiers -as virtual amp VST pluglins-, you can't set your own personal tone, as real tube amps sound all different from each other, but digital modeling guitar amp or VST plugin simulators sound all exactly the same. But come'on, that has sense for professional purpose, and we are talking about using them to play and record at home!
We recommend that you use these VST amp simulators with good home studio monitors.
Best guitar amp sims
IK Multimedia AmpliTube 5
Native Instruments Guitar Rig 6 Pro
Studio Devil Amp Modeler Pro
Positive Grid Bias Amp 2
Waves GTR3 Amps
Universal Universal Audio Fender 55 Tweed
Audified ampLion Pro
Overloud TH-U
UAD ENGL Amplifier Plug-in Bundle
Softube Amp Room
Peavey ReValver 4
Line 6 POD Farm 2.5
IK Multimedia AmpliTube 5
Mac / PC | VST / AU / AAX | SE: $149.99 / Standard: $299.99 / Max: $599.99 / Free version
One of the most established packages available is the Amplitube. It is also one of the first online software that evolved bringing guitar amp simulators to a high level of quality.
IK Multimedia has greatly expanded its platform with a vast array of endorsed amps, effects pedals, cabs and speakers complementing home-grown modules.
Flexible routing, twin rigs, speaker cone selection and more features give it plenty of sonic flexibility. This guitar amp VST plugin recreates the entire guitar signal flow very realistically as you are in a real studio.
In addition, Amplitube offers a wide range of versions:
Amplitube 5 Custom Shop: Free version with 41 amp models to get you started.
AmpliTube 5 SE: Affordable $149.99 version with 80 amp models.
AmpliTube 5: $299.99 standard version with 189 essential equipment models.
AmpliTube 5 MAX: $599.99 premium version with over 400 trim models.
Note: IK Multimedia usually offers offers, so with a bit of luck you can get one that allows you to pay much less. For example, at the time of updating this article, IK Multimedia was offering the Standard and MAX versions at just $99.99 and $199.99 respectively.
IK Multimedia AmpliTube 5 Freeware
If you are not sure about buying it, IK Multimedia also offers the free version, the Amplitube 5 Custom Shop. Check out our review on the best free guitar amp simulators section below.
Download page: IK Multimedia AmpliTube 5 MAX, SE, Standard and Custom Shop
Native Instruments Guitar Rig 6 Pro
Mac / PC | VST / AU / AAX | $ 199 | Free version
Guitar Rig 6 Pro is the latest version of one of the most popular guitar amp simulator. Designed as a virtual rack interface instead of an amp, cab, speaker and pedalboard configuration. Guitar Rig has no branded nor endorsed amps or effects; but it's a serious player that sounds great and can get MIDI CC involved.
The Guitar Rig 6 Pro is a virtual guitar amp with great quality, giving you a realistic tone. It has a complete, intuitive and also easy-to-use interface. The Guitar Rig is for many the best guitar amp simulator VST plugin.
Native Instruments Guitar Rig 6 freeware
Guitar Rig 6 Player also has its free version. See it in Best Free Guitar Amp Simulator VST Plugins below.
Download page: Native Instruments Guitar Rig 6 Pro
Studio Devil Amp Modeler Pro
PC / Mac | VST / AU / AAX | $ 149
Studio Devil Amp Modeler Pro is a simple package that features no manufacturer-endorsed amps or fancy graphics; but this guitar amp sim sounds excellent and there's a selection of tone-tweaking controls and rack processing including chorus, tremolo, reverb, gate and wah-wah. Some of the simulations includes iconic high-gain as Marshall and Soldano amps.
Download page: Studio Devil website
Positive Grid Bias Amp 2
Mac / PC / iOS | VST / AU / AAX | Standard: $99 / Pro: $199 / Elite: $299 / Free Demo Version
Bias Amp 2 is a complete virtual amp simulator. This VST Plugin has a vast library of amplifiers, effects pedals, cabinets and speakers, microphones and more. Furthermore, Bias Amp 2 allows you to design your own model amplifier configuring the preamp, tonestack, poweramp, transformer, cabinet section, and more.
You can use it together with the Bias FX that also lets you build complex chains of stompboxes, amps and cabs. Bias Pedal, meanwhile, lets you model pedal effects processors at the component level. This way you control every detail of the signal chain of your guitar.
Regular prices are Standard: $99, Pro: $199, and Elite $299. But at the time of updating this review they have a limited time offer with the following prices:
Standard $69
Pro: $119
Elite: $149
Free demo Bias AMP 2 version
Positive Grid is so confident about the Bias Amp 2, that offers a free demo version. They expect that you like it so much that you will buy the paid version later.
Download Page: Positive Grid BIAS Amp 2
Waves GTR3
Mac / PC | VST /AU / AAX | $ 29.99
Waves GTR3 Amps captured the finest vintage and contemporary amps from Fender, Marshall, Vox, to more modern and highgain amplifiers as Mesa/Boogie, Soldano and more. This guitar amp simulator has a host-free Standalone ToolRack, thus all you need to do is plug in and play.
The GTR3 includes:
25 modeled amps guitar and 7 bass amps,
Clean, Drive & High Gain guitar amps,
Custom amps by Neil Citron -Steve Vai, Larry Carlton, Steve Lukather–
Download Page: Waves website
Universal Audio Fender 55 Tweed
Mac / PC | UAD-2 | $199
UAD virtual amps are getting better, and the case of the Fender 55 Tweed is not the exception. Vintage Fender tweed Deluxe amp is the Holy Grail of Fender tone. Its low-volume clean sounds are pristine and complex. And as you crank up the volume, you're greeted with sweet, blooming overdrive, before arriving at full-on distorted, utterly viscous tube saturation.

Fender '55 Tweed Deluxe plug-in for UAD-2 hardware and Apollo interfaces is endorsed by Fender Musical Instruments. This '55 Tweed Deluxe plug-in captures every nuance of this historically unrivaled tone machine by emulating every last ingredient of the hallowed 5E3 Deluxe circuit. It has also three speaker types, twin micing and Unison support; virtual tweaking is still enjoyable, as is its extremely realistic sound.
Download Page: Universal Audio website
Audified AmpLion 2 Rock Essentials
Mac/PC | VST / AU / AAX | $149
AmpLion Pro features ultra-precise simulation of 9 guitar preamps, 7 power amps, 12 speakers, 8 microphones and 30 effects deliver extra wide variety of unique guitar sounds. This guitar amp sim gives you an independent selection of preamp and also power amp to independent cabinets. It also has an eight-slot pedal board precedes the amp section, and a six-slot effects rack sits after it, just before the cabinets.
AmpLion turns your PC or Mac into an ultimate guitar stack. You can use it in standalone mode for playing live, learning and rehearsing or as a plug-in module to enhance your guitar tracks.
At the time of this article's update, the AmpLion was at a promotional price of $99.
Download Page: Audified website
Overloud TH-U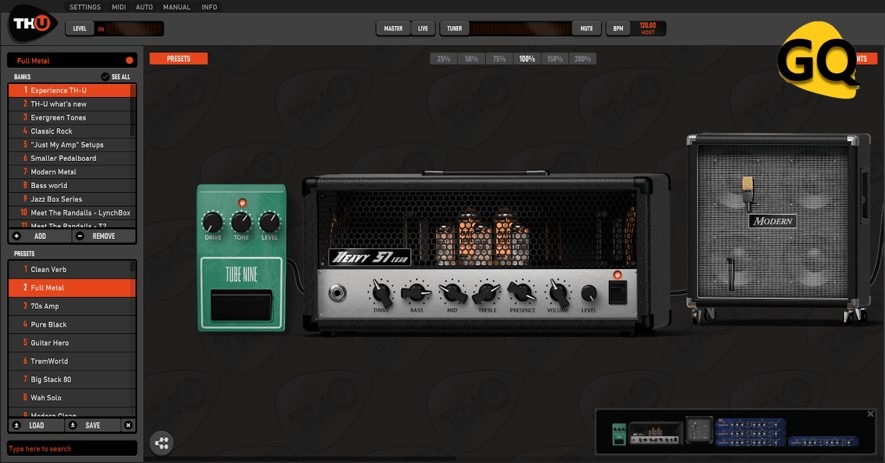 PC / Mac| VST / AU / AAX | $ 299
TH-U is able to load rig models created from real setups. The Overloud proprietary technology captures the response of an entire rig; including the nonlinear and dynamic response of the amplifier, the cabinet, the microphones, the mic preamplifier and the room sound. In the same way, Rig To Model technology allows to capture both analog and digital setups. The Rig Player, integrated into TH-U, allows you to reproduce any nuance of the sampled rigs.
Features include a scrollable and zoomable drag and drop interface and endorsed amp models alongside proprietary versions of classic gear, over 203 components.
At the time of this guide update, Overloud had an offer on their website for the TH-U priced at $269.
Free version of Overloaud TH-U
Overloaud is so confident in their TH-U VST plugin, that they offer a limited free version. Thus, they hope you like it so much that you buy the full paid version later.
Download Page: Overloud website
UAD ENGL Amplifier Plug-in Bundle
Mac/PC | UAD | $299
Delivering powerful metal guitar tone has been ENGL Amplifiers' singular mission for over two decades. Bold clean textures, snarling slabs of chunk, punishing rhythm sounds, and intense, singing sustain, are why ENGL tube amps grace the stages of some of the biggest names in hard rock and metal.
The ENGL Amp Bundle for UAD Hardware and Apollo Interfaces gives you three of ENGL's most popular guitar amps, as one awesome add-on bundle. Featuring the vintage-style E765 Retro Tube and the more modern-sounding E646 VS Limited Edition and Savage 120 amps, this bundle also includes the super-handy Brainworx bx_tuner plugin.
At the time of this post update, the UAD ENGL Amplifier Plug-in Bundle was offered at a promotional price of USD 239.
Download page: UAD ENGL Amplifier Bundle
Softube Amp Room
Mac / PC | VST / AU / AAX / UAD | From $ 149
Softube has a long history of modeling professional gear. Amp Room is a living platform and ecosystem, with compatible expansions and plug-ins. The Marshall Cabinet Collection is an expansion pack made exclusively for Amp Room that is available to purchase; and there are more to come.
A selection of Softube studio FX, like American Class A -included as two separate modules-, Tube-Tech CL 1B, Trident A-Range EQ, and Tape, are Amp Room Ready and can be loaded as modules right now. Eventually, more and more Softube plug-ins that can be used to create guitar and bass sounds will be available to use in Amp Room.
All Softube amplifier plug-ins, such as Marshall Plexi Super Lead 1959 and Eden WT800, can be loaded in Amp Room with heads and cabinets as separate modules, so if you already own these plug-ins, yes, you can use them with Amp Room. More new amps, pedals, cabs and plug-ins as modules will be added to the platform over time, making Amp Room an even more versatile and powerful pro audio tool.
At the time of this post update, Softube's Amp Room was offered at a promotional price of USD 79.
Download Page: Softube Amp Room
Peavey ReValver 4
Mac / PC | VST / AU / AAX / standalone | From $ 99 and Freeware
Peavey's hardware know-how has allowed them to develop an incredibly accomplished processor with highly tweakable amp, cabinet, stomp and also rack effect capabilities. Its 'audio profiling system' can also transform the sound of your source.
Based on feedback from the extensive ReValver user community, the applications redesign has been done so to improve user experience and workflow.
GIG mode further expands ReValvers power as a live performance solution by allowing the user to load 8 presets into memory and seamlessly switch between them. The presets can also be assigned to MIDI controller switches. In addition, another primary consideration of the GUI and UX redesign was to make ReValver 4 the ideal solution for amp modeling on Windows tablets.
Audio Cloning Technology
Peaveys ReValver 4 also features ACT -Audio Cloning Technology- modules that allow the user to mold and shape the guitar sound at both the input -before amp modeling- and output -after modeling-.
With improved Impulse Responses, ReValver 4s RIR 2 feature takes cabinet modeling to a whole new level of accuracy and realism by giving the user independent control of speaker configuration, microphone, and mic placement, allowing for almost endless tone shaping options. Also, the electrical features or the cabinet that alter the response of the amp have been captured, allowing for even greater realism and dynamics. The new Pedal Board feature provides a familiar environment to build and edit an effects chain before the amplifier whilst the effects rack sits post amp for all your delay, reverb and modulation needs.
Versatility and flexibility
One of the best aspects of this virtual guitar amp is the ability to host third party VST plugins. This means that you can expand ReValver and utilise your favourite stompbox plugins; or even other 3rd party amp plugins to create your own unique tones.
This is perfect for those players that are looking to get more in-depth than just preset simulations. You can dig deeper and begin playing with tube types, resistor values and more; so you can create a one-of-a-kind guitar amp, the one perfect for you.
ReValver 4 Freeware
ReValver 4 also comes with the introduction of the Amp Store, allowing users to purchase new amps, stompboxes, effects, and ACT content through in-app purchases. Users can begin with downloading ReValver 4 which is FREE and then simply purchase the additional content they desire.
Download Page: Peavey ReValver 4
Line 6 POD Farm 2.5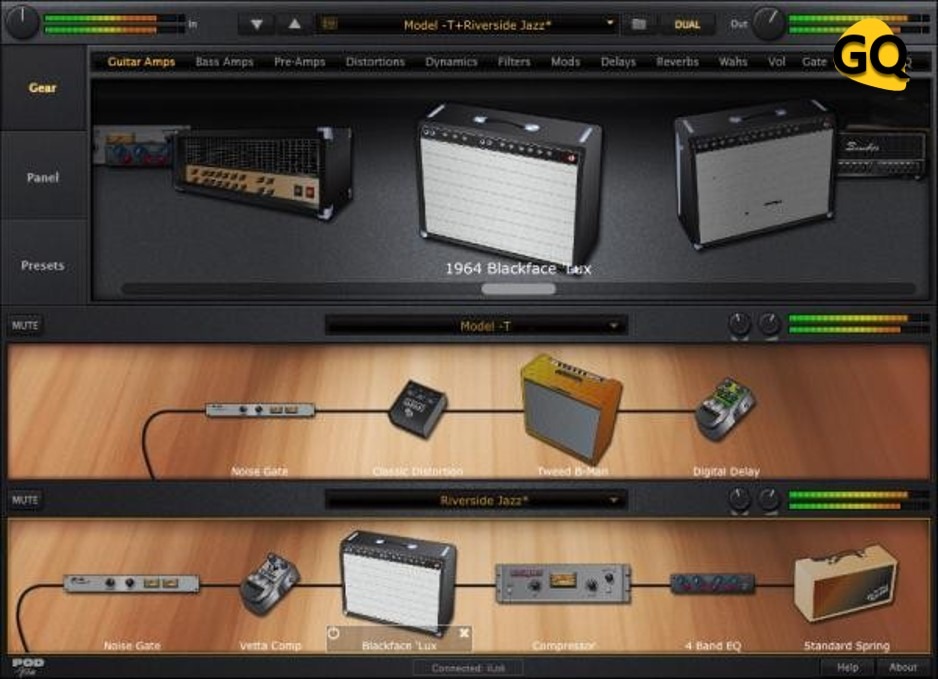 Mac/PC | VST / AU / AAX | Standard: $99.99 / Platinum: $299.99
Line 6 POD Farm 's intuitive split-screen interface offers drag-and-drop rig building, preset browsing, and component editing via single or dual signal paths.
POD Farm™ 2 Platinum delivers an expansive model count, a simple yet powerful workflow, and world-renowned POD® tone for any DAW. Hardware Independence now allows POD Farm 2.5 to be used with any USB audio interface. Furthermore, Line 6 POD Farm 2.5 has a low latency and also an excellent signal-to-noise ratio for guitarists.
It features an arsenal of historic amps and effects. Plus, it features over 250 vintage and modern amps, speaker cabinets, studio-standard effects, vintage stompboxes, and colorful preamps.
Download Page: Line 6 POD Farm 2.5
Best free guitar amp simulator VST Plugins
This is our selection of the best free guitar amp sims. It includes demos, free "lite" versions, and also completely freeware VST plugins.
Guitar Rig 6 Player
AmpliTube 5 Custom Shop
Blue Cat Audio Plugins
Ignite Amps
Audified AmpLion Free
Voxengo Boogex
Shattered Glass Audio Ace
LePou Amp Sims
Nick Crow Lab 8505
Peavey ReValver 4
Kuassa Amplifikation Vermilion
Black Rooster Audio Cypress TT-15
Amp ONE for Ipad
Guitar Rig 6 Player
Based on the Guitar Rig 6 Pro, this free version of the great guitar amp sim includes the same sound quality as the paid VST Plugin. Whereas the limitations of the free Guitar Rig 6 are in the options of cabinets, pedals, positioning, presets and other options. Guitar Rig 6 Player has an electric guitar amp simulator and a cabinet, as well as access to some guitar effects pedals for PC and Mac.
Guitar Rig 6 Pedalboard
The guitar pedalboard options are robust, with a Tubescreamer overdrive, delays, and other effects options like a noise-gate, effects rack, tuner, compressor, and EQs, among others. You have a complete amp and also a effects signal chain.
Guitar Rig 6 Player is an excellent option for those landing in this amazing world of amp and need to experience with the different virtual guitar amps with oug spending money. At the same time, this VST plugin is simple to use interface and foolproof drag and drop layout. Guitar Rig 5 Player freeware also allows you to create your own custom signal chains with ease; thus it is a perfect option for a beginner in the guitar amp simulators VST plugins.
Download site: Guitar Rig 6 Player. Also, it's included in the free Komplete Start collection. Both available from Native Access on the Native Instruments website.
AmpliTube 5 Custom Shop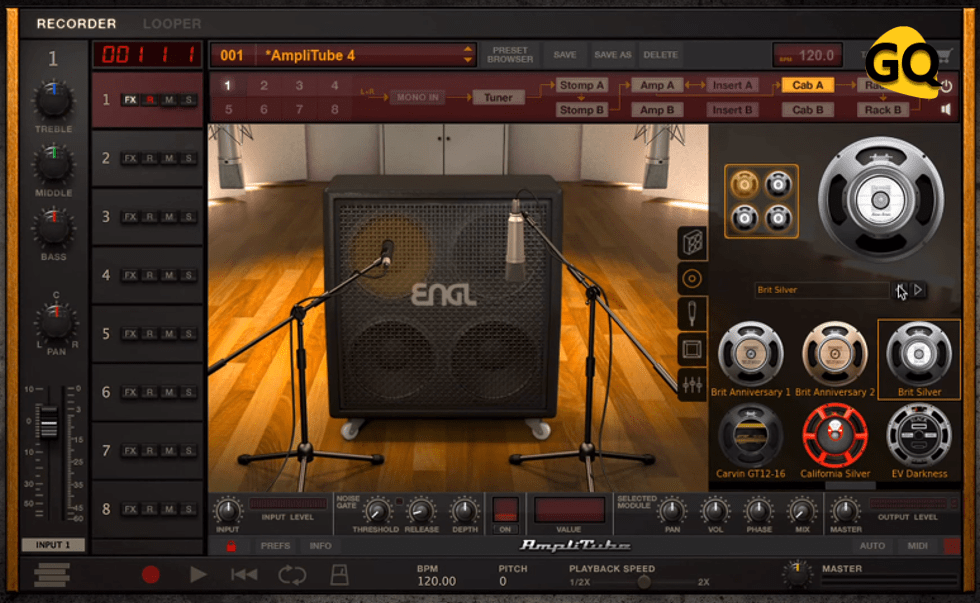 AmpliTube 5 Custom Shop freeware offers five amps with six cabinets for all styles, rock, blues, pop, heavy metal and more, cabinets, loads of POD pedals, speakers, FX tracks, three microphones, and more. The interesting thing is that it includes Cab Room, that is, a virtual recording space where you can change speaker cabinets and microphones. So, Amplitube is a guitar amp VST plugin that allows you to play with a full guitar signal flow very realistically. Additionally, the 'lite' version of AmpliTube 5 includes a tuner, nine pedals and three microphones.
AmpliTube 5 Custom Shop is available for download on the IK Multimedia website.
Blue Cat Audio Plugins: 3 Amp Simulators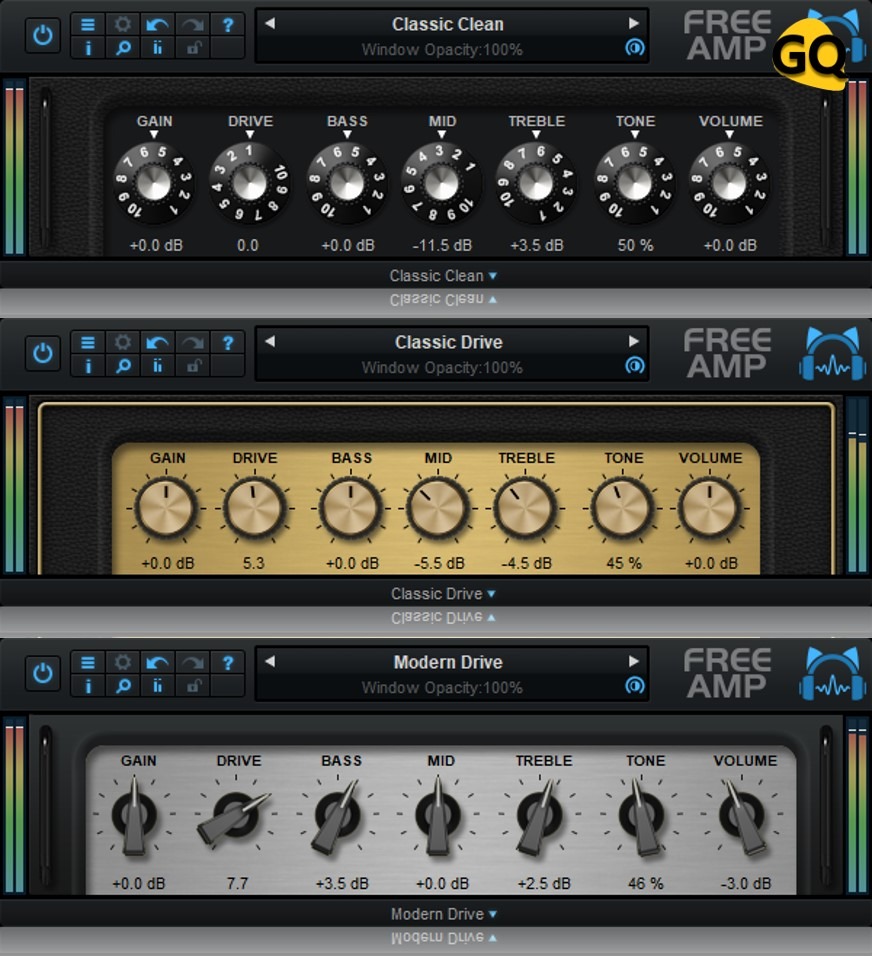 Blue Cat Audio develops audio software for musicians and audio professionals. They create VST plug-ins for real-time audio processing for PC and Mac platforms. The Company also provides consulting and software development services for the professional audio industry.
The three virtual amp models are Classic Clean, Classic Drive, and Modern Drive. Inspired by legendary real-world guitar amps. Thus, the three options cover a wide range of guitar amp tones, from clean vintage sounds from the early days of electric guitar with a Fender Blackface amp, through a mid-gain vintage amp with a Marshall-like model, to higain modern for heavy, metallic tones with a Peavey-type amp.
Blue Cat Audio Plugins Free is available for download on the Blue Cat Audio website.
Ignite Amps
PC / Mac | VST / AU / AAX | Free
Ignate Amps is a company that offers both guitar amp software and hardware. Ignate makes virtual guitar amp simulators designed for heavy rock styles. Guitar amp simulations work with a pre-amp stage and the amplification power stage that sound realistically. One of the mos interesting thing of this guitar amp simulation VST Plugins is that they are completely free.
Ignite Amps lineup:
The Anvil is a modern 3 channel head. The channels are Clean, Rythim and Lead. Perfect for scooped tone metal, inspired on the Mesa Boogie Dual Rectifier.
Emissary is a virtual guitar amp base on the Diamond Nitrox amp. Models EL34, 6L6 and KT88 tubes with power tube and mono or stereo signal output.
NRR-1 is a digital emulation amp mainly based on a famous boutique preamplifier made in '88 modded. It also has 3 channels of Clean, Rythim and Lead.
Download page: Ignite Amps
Audified ampLion Free
ampLion Free is the 'lite' version of ampLion Pro, but there's more than enough amps and features to get you started. Audified employs 'precise circuit modelling technology' to get as close to the real amp as possible. Electronic components and voltage are simulated to improve the player experience.
Download page of ampLion Free VST Plugin: Audified website.
Voxengo Boogex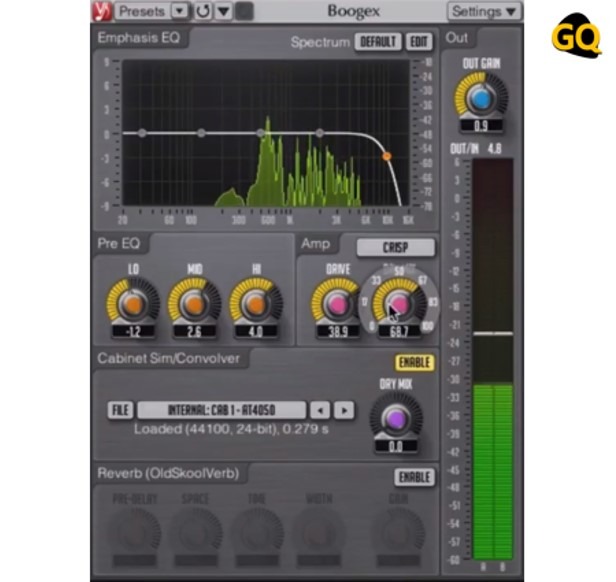 Although the user interface might not be as visually exciting as other guitar amp simulators, the Voxengo Boogex offers a lot in terms of sound. This free pc guitar amp simulator is designed for low and medium gain tones. Although can be used with higher gain sounds, it does get a little "fizzy" and compressed.
It has a large number of impulse responses included, and can be used with responses other companies. It also offers a wide variety of free online virtual electric guitar amps, cabinets and microphones. You'll also have access to an input gate and reverberation module derived from the Voxengo OldSkoolVerb reverb.
Download page of Voxengo Boogex in Voxengo's website. Additionally you can check out their list of free downloadable cabinet impulse responses.
Shattered Glass Audio Ace
Shattered Glass Audio Ace is a simulator of the iconic vintage 1957 Fender Tweed Champ 5 watts amp. This vintage amp was used on some of the best recordings of all time; so you have to give it a try if you like vintage tweed Fender tone.
This virtual amp VST plugin has a twangy tone and tweed drive, with great character.
The amp sim comes with additional controls for adjusting and modelling the tone in many aspect. You can set the amount of feedback, the level of input, and output and more. It comes with an impulse response so you don't have to use a separate IR charge; but it's nullable and you can use the digital head with whatever type of cabinet response you want.
You can download the Audio Ace in Shattered Glass website.
LePou Amp Sims
LePou actually offers several free guitar amp sims. The available virtual amps are ideal for blues, rock and heavy metal. Some of the options are: Marshall, Soldano, Mesa Boogie, Peavey 5150 among others. You can also download cabinet impulse response loader.
The virtual amps can be used in mono or stereo and has several functionalities that allow you shape the tone. They also is compatible with any type of cabinet and impulse response loader, allowing you endless combinations.
Unfortunately, the website is no longer online, but you can find the LePou virtual amps in VST4Free.
Download LePou Guitar amp simulators: VST4Free.
Nick Crow Lab 8505
Nick Crow Lab 8505 is a great free amp sim for those looking for a high gain metal amp. This amplifier simulator is based on Peavey amps and has a simple to use interface.
The Nick Crow Lab 8505 allows you to get a great modern metal tone. You can go from a chunky crunch through to face-melting distorted lead sounds. Undoubtedly, this is one of the best free metal amp sims!
Download the Nick Crow Lab 8505 at VST4Free.
Peavey ReValver 4
As we showed you above, ReValver 4 also has its free version. This version is an "lite" introduction to the amp sim, and if you want to get further functionabilities you have to buy them.
Download Page: Peavey ReValver 4.
Kuassa Amplifikation Vermilion
This is the free version but still offers all the same features as the paid one. Vermilion is one of the best for 50's classic clean tones through to vintage crunchy, overdriven tones. This amp has a Mesa and Dumble vibe with a hotrod Fender tone. If you're after Fender-style clean and hotrod tones for country, blues and rock, then this is a great guitar amp sims.
Kuassa Amplifikation Vermilion has two channels, clean and Overdrive. It also offers three voicings as well as tremolo and reverb.
It has four different microphones: two dynimic, a condenser and a ribbon. You can use two and also change their placement.
Finally, it also include added noise gate will still be useful if you're going loud!
Download Vemilion for free or purchase the full version at Kuassa's website.
Black Rooster Audio Cypress TT-15
The Cypress TT-15 is great virtual guitar amplifier based on a Orange guitar amp. This is a easy-to-use VST plugin guitar amp sim with just six simple controls.
The TT-15 gives you a great variety of drive tones, from crunchy overdrive to sizzling distortion, and a 2×12 cabinet emulator is also included.
Download Cypress TT-15 freeware at Black Rooster Audio website.
Mercuriall Amp ONE for iPad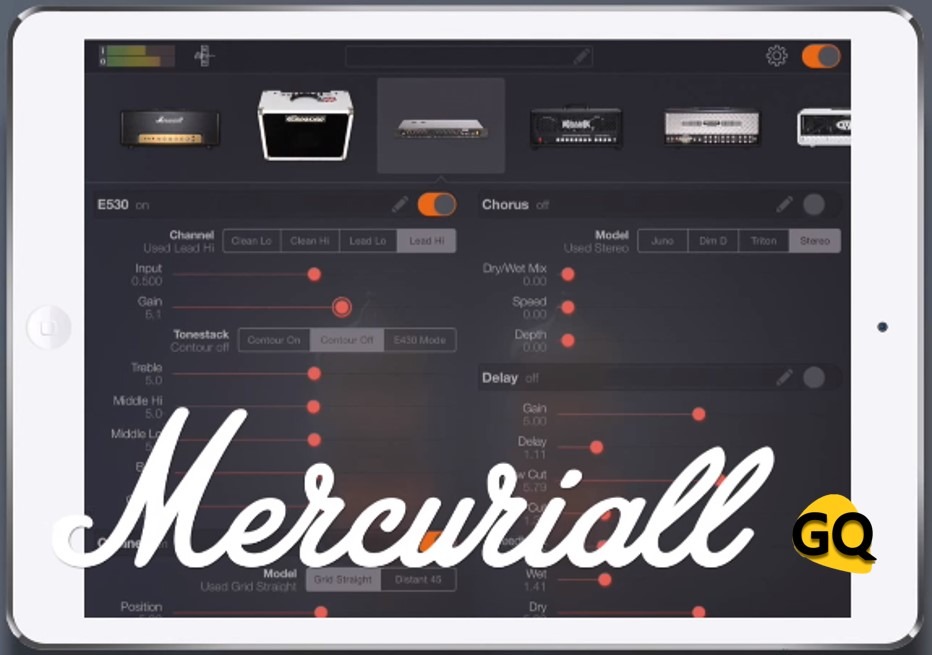 Although Amp ONE isn't a guitar amp sim in the same way as a VST plugin, but this is one of the best free guitar apps available for iPad. Amp ONE turns your iPad into a guitar amp, so thanks to this app you don't even need a computer or laptop to get a virtual guitar amp.
This app offers from high-gain to classic clean tones. The audio is monitored via your headphones. Amp ONE for iPad has seven preamp sections based on famous amplifiers, and effects such as chorus, compressor, delay and reverb.
Download Amp ONE for iPad at Apple App Store.
Conclusions about the guitar amp simulator VST plugin
As you could see there is a vast list of guitar amp sims in the market, for all music styles, needs and budgets. You can start with a freeware, a demo or a free version of a paid guitar amp sim, once you are already familiar with the different options and sure what works for you, you can go for your definitive amp simulator. Keep in mind that each VST plugin will offer you a different selection of sounds, tones, amps, mics, cabs and more and of course complexity of use.
The best thing is that you don't have to limite yourself to choose only one virtual guitar amp VST plugin. Another great thing is that with a guitar amplifier sim you don't have to compromise on sound just because you aren't able to mic up your amp or cabinet.
If you're also interested in guitar recording, mixing, and editing, check out the guide to setting up a home recording studio.